Mother, Wife, Entrepreneur, Author, Self-Made Millionaire, Motivator
Katrina Walker is an Unbreakable Survivor
"I have been abused. I have been homeless. I've been abandoned. But I am undefeated and unbroken! Everyone goes through trials and tribulations, but I have learned that life's challenges don't define you.
Today, I am a motivator! I motivate people to get up and achieve their goals and their life's calling. You can start that new business. You can go after that promotion. Leave that bad relationship. You can do it all! I motivate people to stop making excuses, so that they can go after the life they want and deserve – and I use all of my experiences to show you how."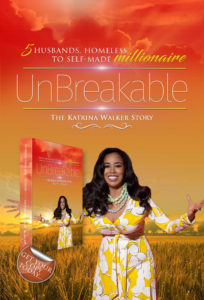 Read about my journey, "Unbreakable: The Katrina Walker Story," and if you are inspired by it, be sure to give it five stars on Amazon.