Katrina Walker is a mother, wife, entrepreneur, author, self-made millionaire, motivator, philanthropist and most importantly an unbreakable survivor.
"I consider myself a motivator – not a motivational speaker. Everyone has a story. Everyone goes through trials and tribulations. I don't speak to or at people. I communicate and connect with them. I help others with good old fashion advice – financially, socially, mentally, and spiritually. I motivate people to get up and achieve their goals, start that new business, go after that promotion. Tell that woman or man how to leave that bad relationship. I've been there. I motivate people to stop making excuses, stop saying 'can't do', and I'm going to use all my experiences to show you how."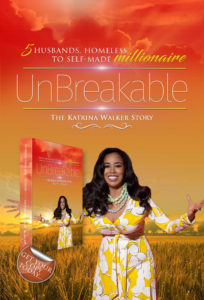 If you loved "Unbreakable: The Katrina Walker Story" and were inspired by Trina's journey then be sure to give it five stars on Amazon.com.
"Believe That Anything Is Possible"
Watch the PSA "Love Don't Hurt"