Katrina Walker beat the odds and so can you.
You are unbreakable. Anything is possible.
She took being a witness to cultural, domestic, and financial tumult and converted it into a motivational tool to fight victimhood. Katrina went from being a struggling teen bride and divorced mother of four to a trailblazing entrepreneur who has built thriving enterprises and become a self-made millionaire over the past 25 years.
Katrina's renowned Tennessee-based Rainbow Kidz Learning Center is expanding into a national brand, while she is pursued as a motivator and life coach whose life story shows that anything is possible. For the past two decades her philanthropic advocacy has helped turn hardworking individuals into successful business owners, providing them with step-by-step guidance on how to start, manage and market a business to realize their full earning potential.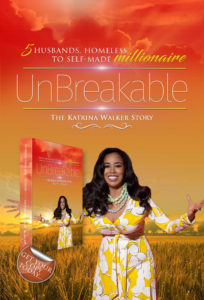 Unbreakable is the riveting story of Katrina Walker, a self-made millionaire who went from being an abused teen bride and mother of four, to one of the most successful women in her region.
It's the story of five marriages and a page-turning roller-coaster ride through each of them, including perilous situations that included being penniless, homeless, and ultimately a millionaire.